Over the past few weeks I've been working on a package for Windows Vista/Windows 7 that will enable pIqaD (Klingon writing) support throughout the operating system.
I have created a new Klingon local, a pIqaD keyboard layout, a Unicode pIqaD font and a registry script to link the font into the system. This package enables pIqaD to be used in any unicode aware application without having to make specific font changes. Check out these screen shots: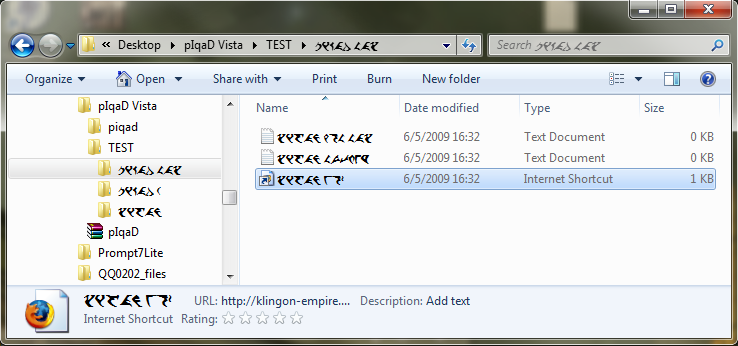 You can download this package right here: pIqaD Installer
Installing this should also enable the language bar so you can switch to the Klingon keyboard (it's called OL in the language bar, MS won't let you change everything). If you download this package and try it out, please comment on this thread and let me know if you're successful or if you have any errors.
DISCLAIMER: While I'm 99% sure this won't do anything harmful to your system, it is a "beta" version. If you do decide to install it and your PC blows up or something else happens, please don't send me death threats. I will try and help in anyway I can, but somethings are beyond my control.
If your using Windows XP and want to add pIqaD support, check out this post on the Klingon Language Institutes Wiki (also by me).
   <- Once the font is installed you should be able to read this too.