I have created a Klingon theme for S2U2, a slide2unlock app for Windows mobile devices.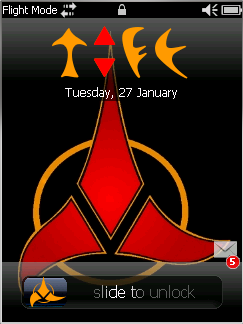 The pIqaD numbers are correct and actually work really well for the clock. You can get S2U2 from the S2U2 Homepage. Once it's installed the theme can override the S2U2 graphics files.
Download Klingon.zip (For QVGA devices (240×320))
Download KlingonVGA.zip (For VGA devices (480×640))
You'll need to make sure these S2U2 settings are right:
Date Format: Option 1
Time Format: Option 1
Clock Font Folder: clock\
Checkout this thread over at The Klingon Empire forum for full instructions.
Qapla'!